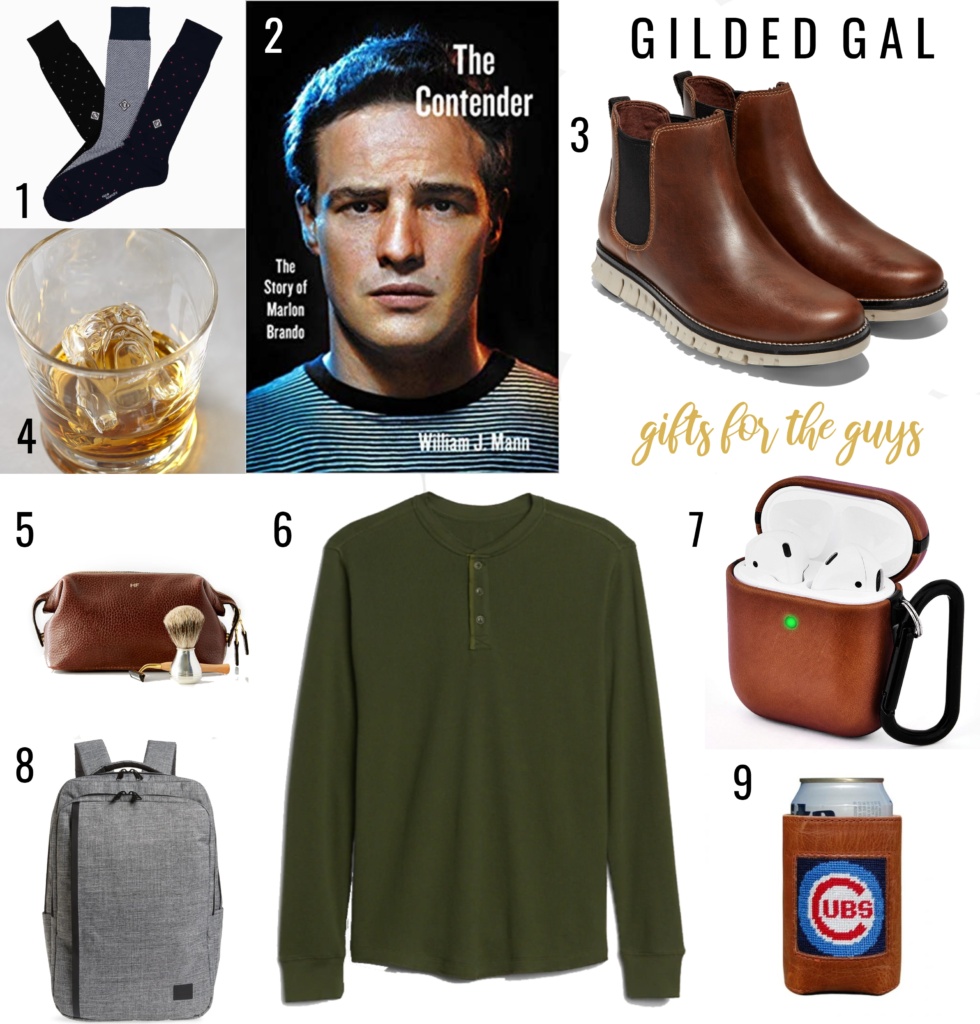 Why is it that the men in our lives are often the hardest to shop for? Brothers, dads, husbands – they're all the same! What do you want? I don't know. What do you need? I don't know. The never-ending cycle, which adds an extra element of unneeded stress to your holiday shopping. But, not no more! These gifts for the guys are tried and true. Whether I've bought them for one of my brothers or my dad, they've bought them for themselves, or I know the men in my family would love them, these gifts for the guys are pre-approved for your holiday shopping lists!
gifts for the guys
monogrammed socks – I got these for my dad a couple years ago, and they are such a fun dress sock. I love the subtle monogram detail! Perfect for the guy who thinks plain black dress socks are far too boring.
The Contender: The Story of Marlon Brando – This book has gotten soooo many great reviews since it came out last month. (I might have to add it to my reading lists, too! Perfect for the guy who love The Godfather or On the Waterfront. (Can we talk about how handsome a young Marlon was!?)
waterproof chelsea boots – My brother bought these a few months ago, so I texted him to ask him what he thinks about the boots. His response? "I like them." I mean, come on. That is the validation and approval that we need and deserve!!! Perfect for your brother, too (I have a source that says he'll like them).
bull dog ice mold – I just bought this mold for a housewarming gift, and I'm obsessed. Can you imagine taking a sip out of your glass and having that adorable bull dog face looking up at you!? Perfect for the whisky connoisseur with a sense of humor.
travel pouch – Travel pouches are one of those things that girls have 900 of while men have none. Fill this up with all his favorite travel-sized staples, and he'll save at least 10 minutes packing for his next trip. And maybe he won't forget the toothpaste this time. Perfect for the guy who is always on the move.
henley – These gap henleys are tried and true. I think I have bought one for someone on my list every year on black Friday for the last five years. They are cozy and casual, but still look more put together than a regular, ole t-shirt. Perfect for the guy who has a wardrobe full of tried-and-true staples.
AirPods case – I don't have AirPods, but I think this is such a handy idea. I imagine I would constantly lose the little case and would love to be able to hook it onto something more secure. Perfect for the guys who is constantly misplacing something.
backpack – Bags … another thing that girls have a ton of while guys have (maybe) one. Perfect for the traveler, commuter or gym goer.
Cubs koozie – This might be my favorite gift on the list. A fun upgrade from the usual I-got-this-for-free-at-a-bar koozie that guys seem to have an entire drawer of. Perfect for the beer-loving Cubs fan (every Cubs fan).
Just in case you missed them, here are a few other gift guides: gifts for less than $100, gifts for less than $50 and gifts for less than $25. Happy shopping!