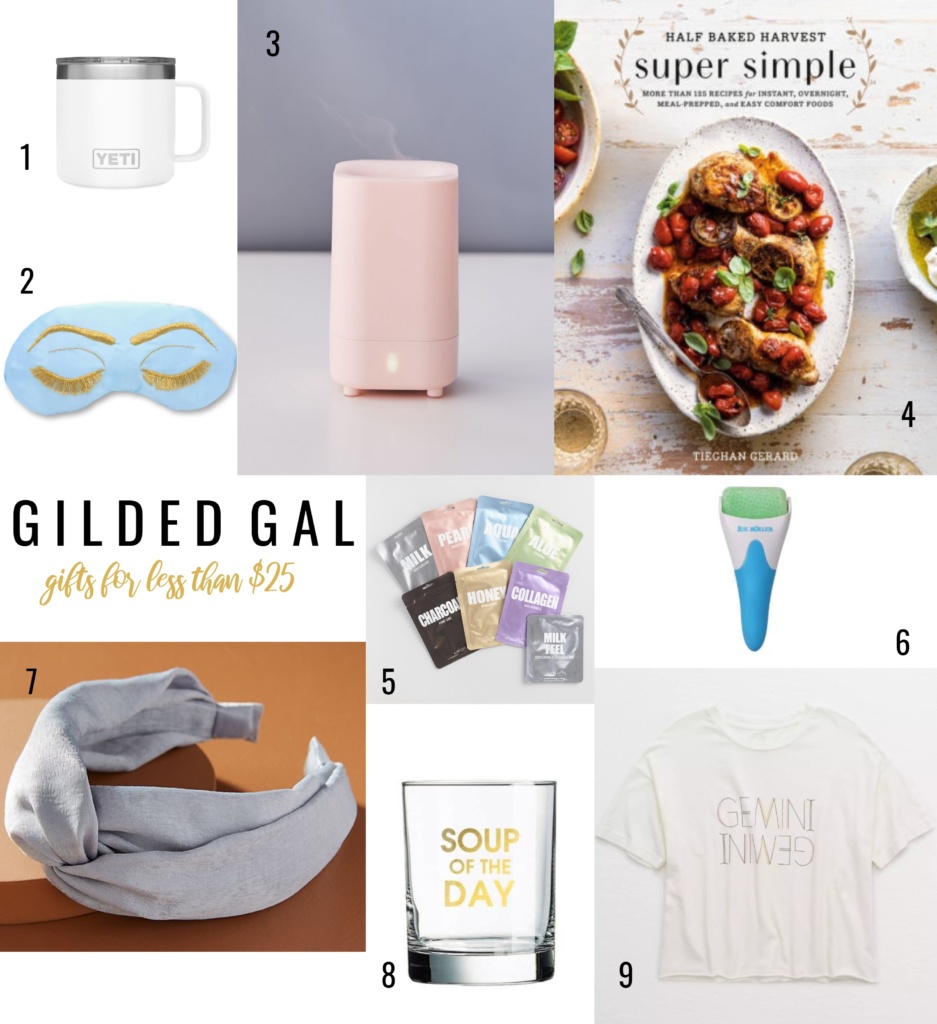 It's official – the holiday seasons are upon us! While I am always the person who starts celebrating, decorating and jamming out to Christmas music on November 1, I usually don't start shopping until black Friday. But I decided to start a little earlier this year, and it feels so good to already have a few people checked off my list! So to kick off the official start of the holidays – bum bum ba da – my first gift guide of the year!
While gifts for less than $25 is the first gift guide, it also might be one of my favorites. There is something for all the ladies in your life – whether you're filling up a stocking, just want to buy something small, or you're putting together a gift box of a few favorite things (I love doing this!). So, let's get started!
gifts for less than $25
one // Yeti mug – I prefer to drink coffee out of a mug, so I don't love a tradition Yeti tumbler, which makes this is the BEST mug ever. It keeps your coffee (or tea) hot forever, which make it the perfect for a mom who is constantly reheating her coffee, a commuter, or someone who also prefers slowly sipping her piping hot coffee. (You could also fill this up with a few packets of Starbucks via instant coffee or a mini bottle of Bailey's with a package of Swiss Miss!)
two // sleep mask – I LOVE this adorable face mask. Perfect for the Breakfast at Tiffany's fan in your life!
three // essential oil diffuser – In the last few years, I feel like essential oils have totally taken over Instagram, and I'm proud to say that I jumped on that bandwagon. I use them in a roller to relief stress, in my face wash, and love to turn on my diffuser when I need to chill out before bed (lavender and cedarwood is my favorite night-time combo). Perfect for the friend with a stressful job who deserves a little r&r.
four // Half Baked Harvest cookbook – If you haven't made one of Tieghan's recipes, you don't know what you're missing! I am not a fan of grilled cheese. (Which probably saved me a lot of extra pounds in college, so no complaints.) But ANYWAY, she has a recipe for grilled cheese that I literally CRAVE. It is that good. If you find one recipe in this book that you like as much as that grilled cheese (you will), it'll be worth the price of the book. Perfect for the friend who is always hosting dinner parties and trying new recipes.
five // sheet mask variety pack – Is there anything that ways treat yo'self quite like a sheet mask? Imagine how much your bff would love turning on her new essential oil diffuser, throwing on a face mask and straight chilling after a long day at work. Perfect for the skincare obssessed friend.
six // ice roller – Another example of treating yo'self. I love using my ice roller on days when I'm a little puffy (read: ate too much salty food) or have a little headache (read: too much to drink). Perfect for your friend who says "we're going out for just one drink" yet you somehow end up at a McDonald's five hours later.
seven // headband – For bad hair days, good hair days and the days in between. Headbands are everywhere right now, and I hate hearing people say that they can't pull them off – you can! They add a fun twist and a little something special to even the most simple outfits. Perfect for the friend who is always willing to try something new with their style.
eight // rocks glasses – There are few things I love more than a cocktail gladd with a cheeky saying on it. Well two of these might cost a bit more than $25, they're worth it! Perfect for the friend who love to entertain and has a curated bar cart like no other.
nine // star sign t-shirt – I just bought this shirt and it is the softest. tee. ever. Perfect for the friend who religiously reads her horoscope on the first of every month.
Happy shopping! See you tomorrow for something new.
xAlex
If you're looking to spend a little more, check out this guide of gifts for less than $50.