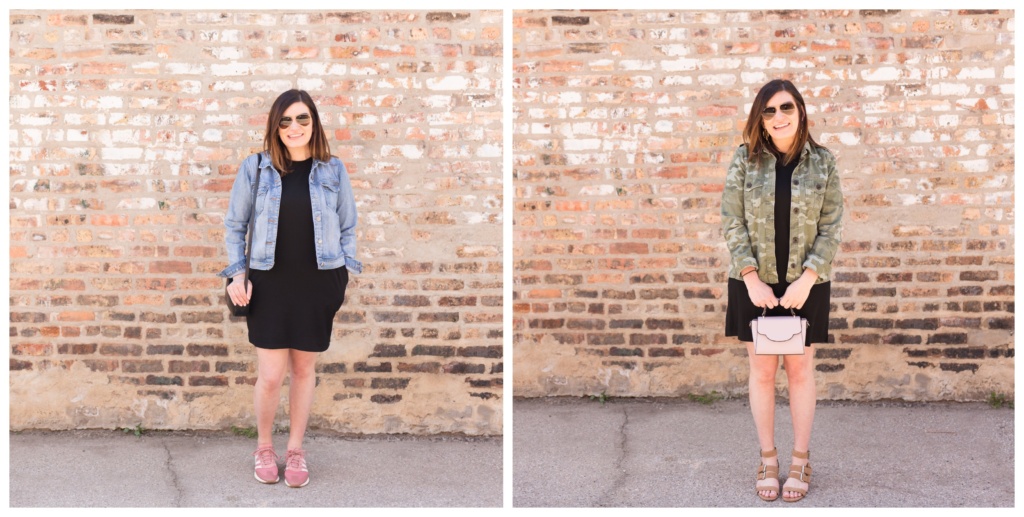 Two ways to style a t-shirt dress that easily take your Saturday look from day to night with a few quick changes.
Who is guilty of looking through their closet in the morning and claiming that they have nothing to wear? I know that I do it at least twice a week. And somehow, it's even harder in the summer than it is in the winter. Especially in Chicago – hot and humid one minute, breezy and brisk the next. If we're being honest, sometimes it makes getting dressed – particularly on the weekends – kind of annoying.
Because of this, I love having pieces in my closet that are 1. easy to throw on and 2. easily styled a couple different ways for different occasions. On a Saturday, I'm either getting dressed for an afternoon of running around or a night out, so it's helpful when I can throw on one piece and change it up throughout the day. It's even better when the piece is a comfy t-shirt dress. And while there are SO many ways to style it, here are just two ways to style a t-shirt dress.
Before we get into it, I should tell you that you can (and should!) easily take these tips as loose suggestions. Look through your closet and shop! No need to run to the store to replicate either of these outfits, because I'm 99 percent positive you have similar pieces in your closet! Maybe it's a blazer that you bought, but can't quite figure out how to style, or a tried-and-true jacket (like this camo one!) that you want to reintroduce into your rotation. Get creative with what you already have, because ain't nobody want to spend money if they don't have to!
Two Ways to Style a T-Shirt Dress
This black t-shirt dress has been on major rotation lately. It's the dress you throw on when you're in a rush to meet your friends for brunch and they tell you "it's casual" and make a comment when you show up in a dress because "you always so fancy." But also jokes on them because it's basically a nighty. Versatility. Since it's so basic, it's also really easy to dress it up with just a few different pieces.
Two Ways to Style a T-Shirt Dress: During the day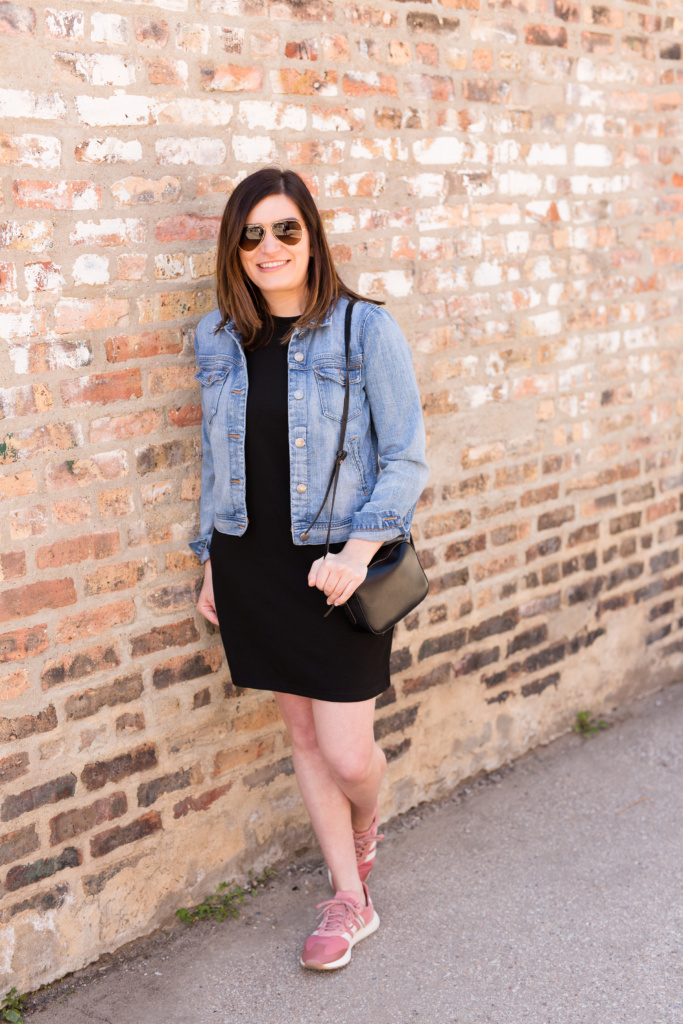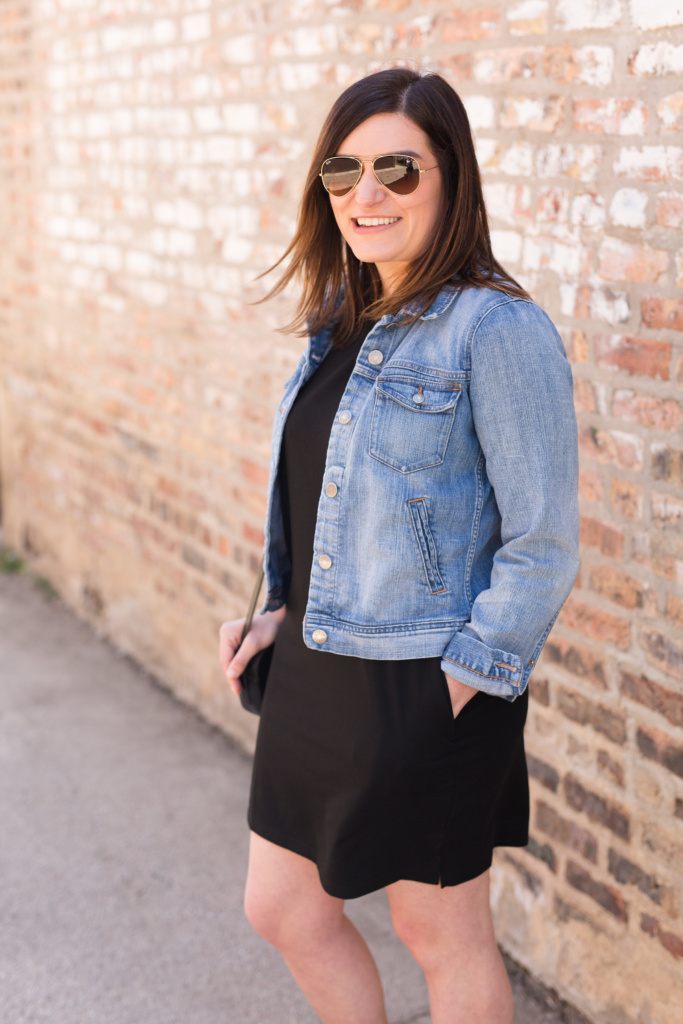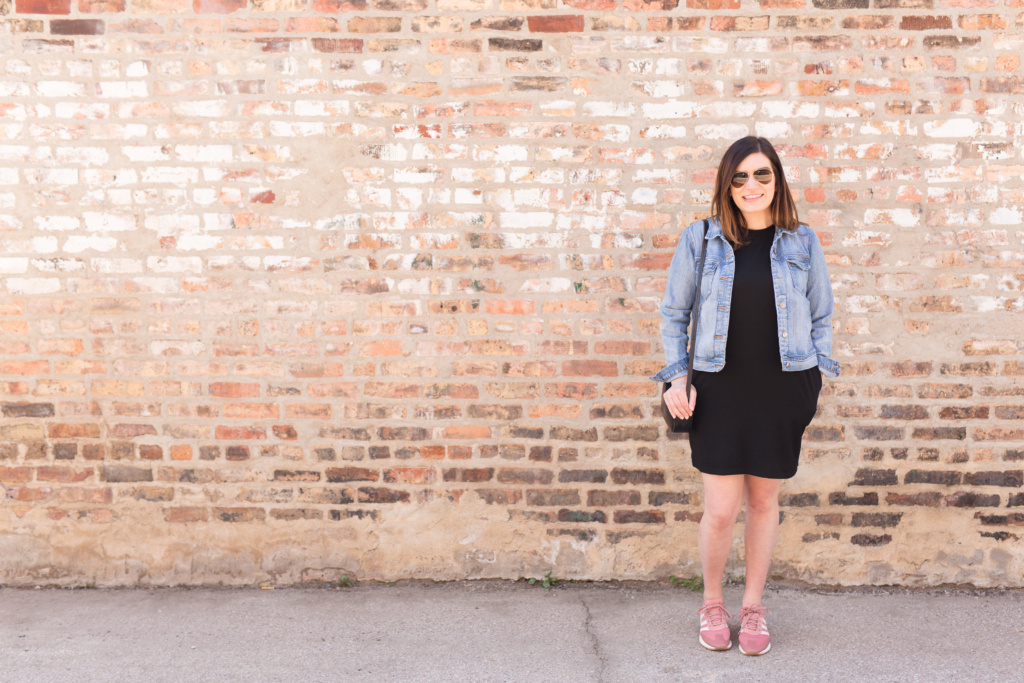 Speaking of versatility, raise your hand if you're also very happy about gym shoes being socially acceptable to wear outside the gym without sacrificing style! Throw on a pair of kicks and this dress and you are cute and comfortable and very Saturday-afternoon ready. I think that might be the definition of a triple threat. I finished off this look with a couple classic pieces – a jean jacket and a simple bag. Interested in replicating this look this weekend? Here are a few tips to make it your own:
I know there are a lot of people who are not into jean jackets. While I am a gigantic fan, I could see how some people might find them uncomfortable. Here are a couple alternatives that you could swap it out for:
A couple years ago, Nike and Adidas were the shoes you wore at the gym, and Superga and Converse were the weekenders. Now, they're all fair game anytime, anywhere, and I'm not mad. These Adidas were an extremely lucky Marshall's find. They're still currently for sale at major retail stores, but I got them for MUCH cheaper. Never underestimate the value of an hour spent scouring the selves at Marshall's or TJ Maxx. If you're not feeling the Sporty Spice vibes the gym shoes give this look, you could always opt for a few of my other favorite weekend kicks:

Birks – They're an investment, but they're worth it! And they will last – I've had a pair for 10+ years.
Once you break in a pair of Rainbow flip flops, you will never want to take them off.
Ease into the athleisure look with a pair of sneakers. I brought these on my trip to Colombia, and they are both comfy and chic.

In reality, this little bag is the perfect size for running errands on Saturday. And it worked for this day / look just fine. But for some reason, I always gravitate towards a carry-all bag when I'm running errands. Why do I always feel the need to pack a huge bag full of alllll of the things? Anyone else? Chances are, I'm not going to need my deodorant, planner and six pens while I'm at the mall or Trader Joe's, but you just never know. I'm basically a boy scout. Always prepared. If you're the same way – and you loveee a good tote bag, too – here are a few of my favorites for work and the weekend:
Two Ways to Style a T-Shirt Dress: At Night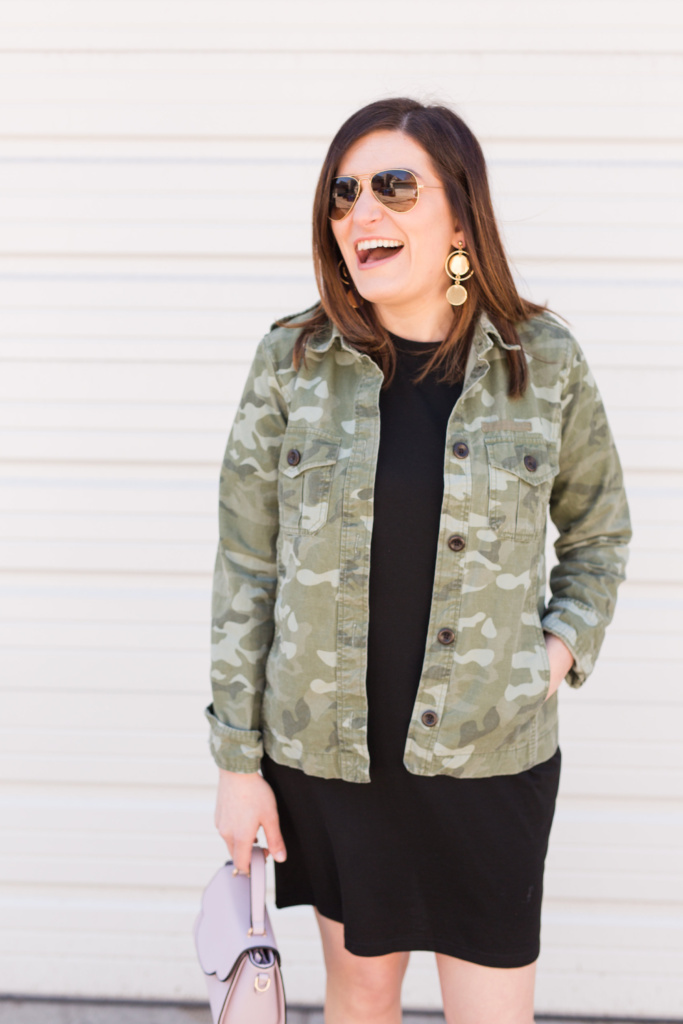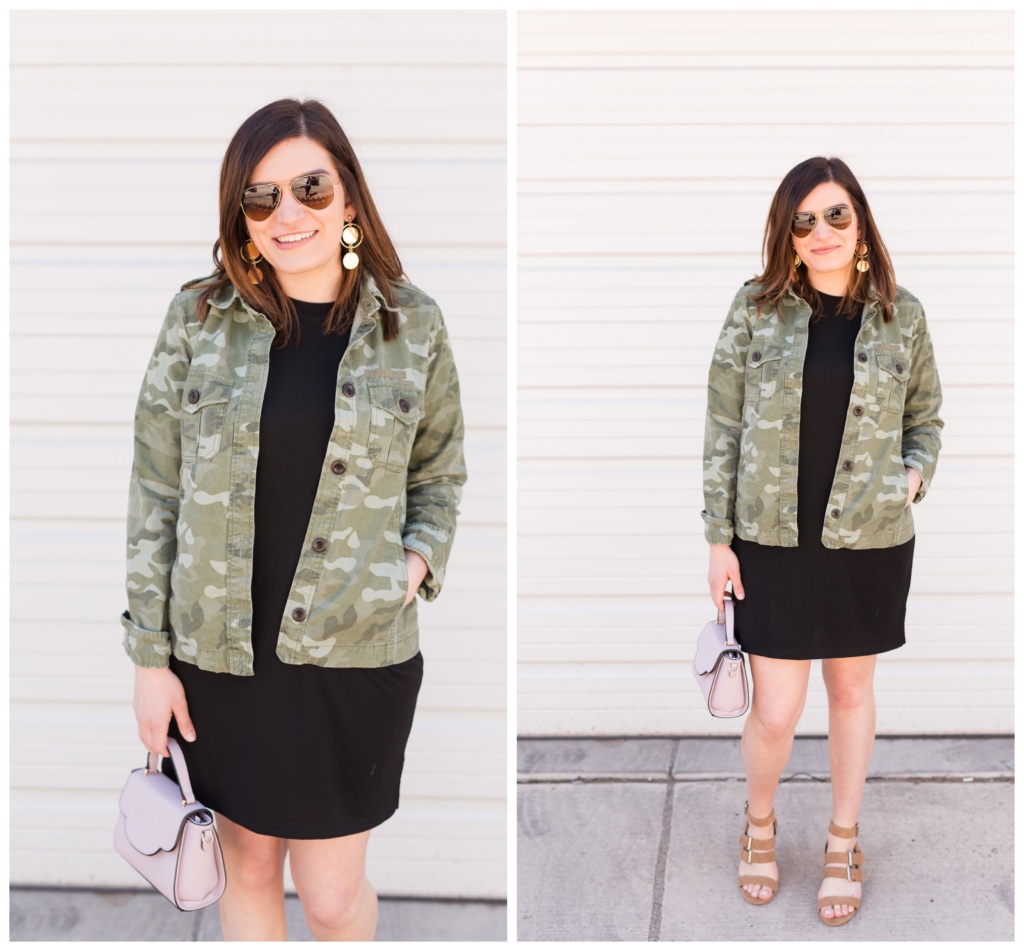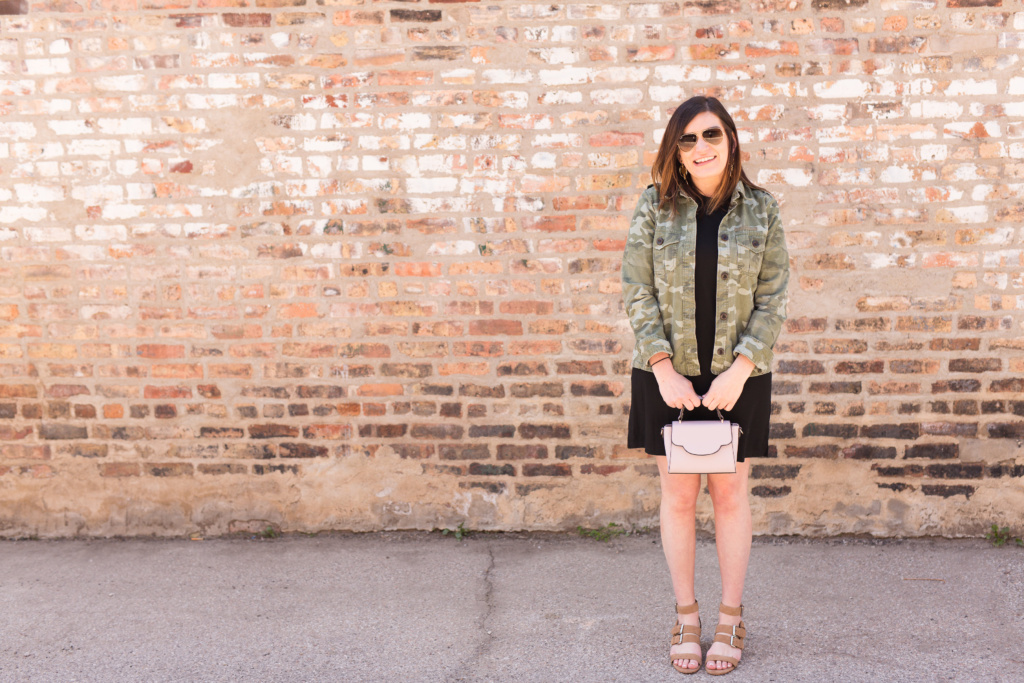 I am constantly in a rush. Read: I am usually running late. Nine times out of 10, I start my Saturday running a couple errands and then somehow get distracted and waste a lot of time, and get home with like 30 minutes to get ready for a night out. Which means I probably not going to have time to do my hair, make up and pick out a new outfit. Instead, I'd rather focus on the beauty, and slightly switch up my daytime outfit so it's Saturday-night appropriate. For me, that's usually just throwing on a pair of heels, a different jacket and a fun bag:
I've had this jacket for like five years, and it has always been one of my favorites (here's a similar option). It's casual, but since camo is really happening right now, it makes a cool addition to a night-out outfit. If camo is too much for you, try a bomber. I'm obsessed with the pink ruffles – it would look so cute with nude heels and fun bag
If you're going to dinner and you want to look a little fancy, but also be comfortable, a simple pair of black pumps and a long cardigan are the way to go. These are also two pieces that everyone should have in their closets – both are under $40! Finish it off with a fun clutch.
Most people know that you can fancy up a dress pretty easily with a blazer. I have this white linen one and I wear it all. the. time. Add a pop of color with this ahhh-maxing bag for spring and summer and these heels. I had the red pair from last season (they run TTS), but I think I need these, too.
And there you have it – two ways to style a t-shirt dress (with lots of outfit options) that are comfortable and chic. That you can easily replicate with pieces in your own closet! I don't think it's uncommon for women to look in their closets, think they have "nothing to wear" and head to the mall for an outfit instead of shopping what they already own. Hopefully this lookbook changes that for you!
Will you try one of these two ways to style a t-shirt dress?
I want to see you in your best t-shirt dress look. Show we how you style it on Instagram by tagging me in your IG posts with the hashtag #GildedGalStyles
Happy styling, gals!