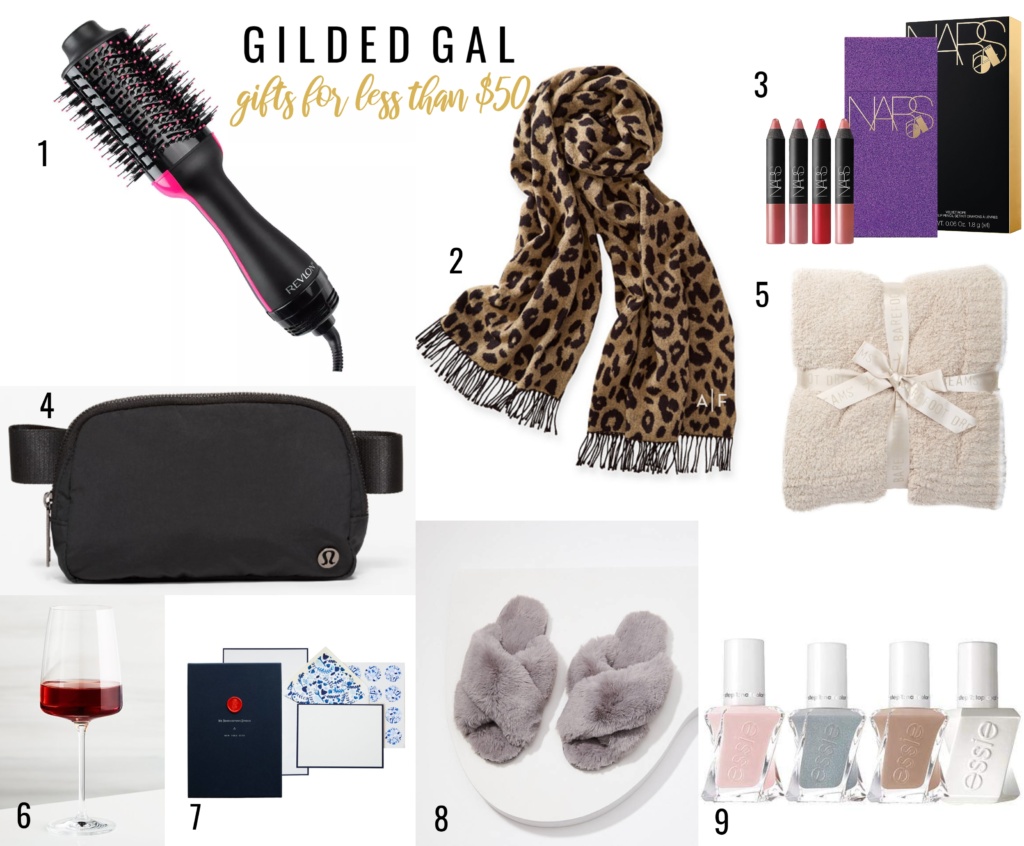 Another day, another gift guide. After yesterday's guide of gifts for less than $25, I decided to up the ante. So today, let's talk gifts for less than $50. I think it's kind of that sweet spot – not a quite stocking stuffer, but just enough to buy a fun, throughtful gift for your aunts, BFFs and MILs!
gifts for less than $50
one // one-step hair dryer – This is a bold statement, but this is easily my best purchase of 2019. I'm terrible at blow drying my hair – especially with a round brush – but this dryer makes it so simple. Bonus points that you actually look like you just walked out of a blow dry bar every time you use it. Perfect for the friend who loves getting a blow out, but hates spending $50 for every trip to Dry Bar.
two // leopard scarf – Leopard. Monogram. Blanket. Scarf. Do I have to say more!? Perfect for your cheetah girl, cheetah sistah who is also maybe always cold.
three // lip stick kit – The NARS lip sticks are my favorite. The color is long lasting and they go on smooth without drying out your lips, which is usually hard to come by. Perfect for friend who is always switching up her beauty routine.
four // everywhere belt bag – I have a Madewell leather belt bag, and I wear it wayyyy more than I ever thought I would but always wish I had a more casual option. Enter the lululemon everywhere belt bag. Perfect for the friend who is always on the go and also lives in leggings (aka anyone).
five // throw blanket – I'd like this blanket right now. On the couch. Watching a Hallmark Christmas movie. Maybe with one of those wine glasses I'm sharing next. Perfect for the homebody.
six // wine glasses – See above. Doesn't sipping a glass of red wine out of this glass under that blanket sound good!? Perfect for the friend who never turns down a glass – or two – of wine.
seven // letter writing kit – Isn't this the prettiest letter set? I'm making it a life goal to be better about sending handwritten notes in the mail, because I know how much I love to receive them. Perfect for your thoughtful friend with perfect handwriting.
eight // furry slippers – I got these slippers last year for Christmas, and I still wear them every day. They are so cozy, but since they're open on top they don't make your feet too hot. Perfect for the homebody who always has a pedicure worth showing off.
nine // nail polish set – This nail polish is so good. It gives you a glossy, lasts-for-more-than-two-days manicure without having to waste 45 minutes and sit under a UV lamp. Perfect for the gal who gives herself a bomb at home manicure and gets tired of her nail polish color after a couple days.
If you're looking for stocking stuffers or a gift that doesn't cost too much money, check out yesterday's guide of gifts for less than $25.