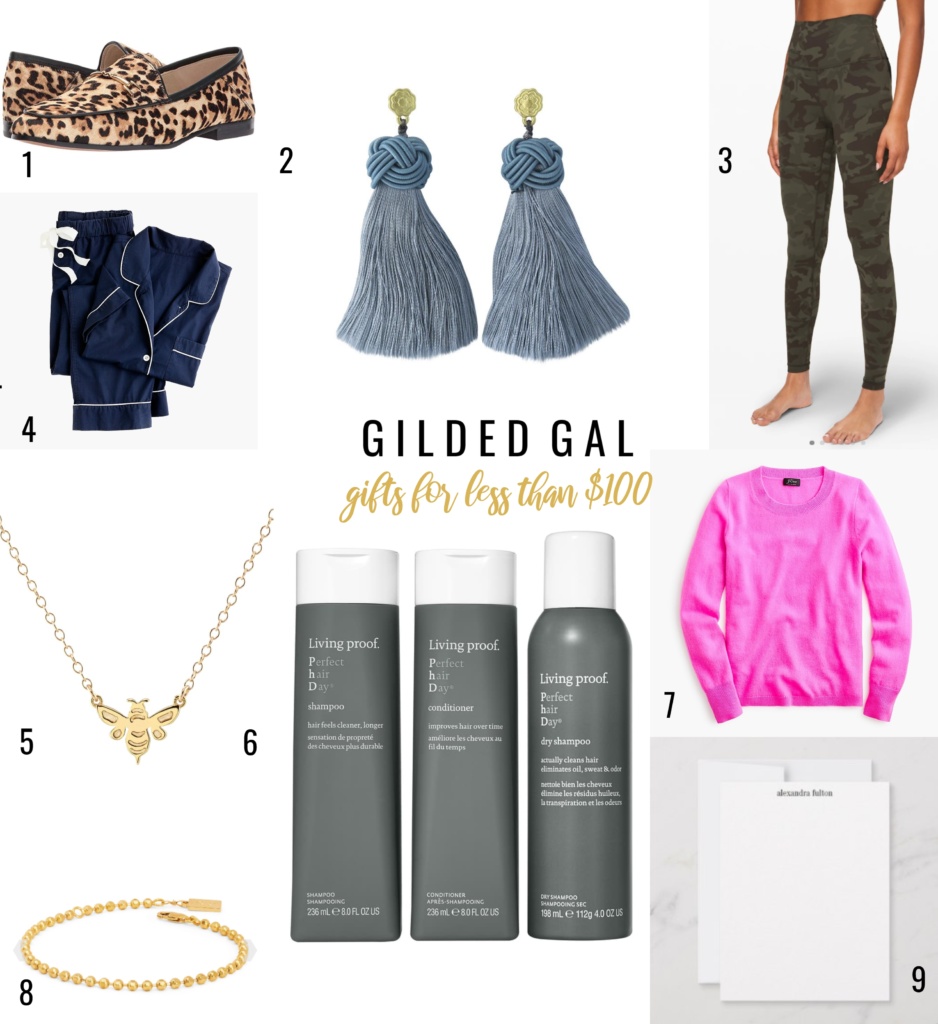 HAPPY WEEKEND! That was supposed to say happy Friday, but this was a never-ending week and I may have forgotten to press publish. So here we are. Was it one of this weeks for anyone else, too!? I'm excited to spend majority of this weekend doing a whole lot of nothing. (Praise be for Hallmark movies!!!? Except finalizing a few more gift guides (a good one for the guys is coming next week!). So today, as you might have guessed, I'm sharing a guide for gifts for less than $100! If you missed them, earlier this week I shared gifts for less than $50 and gifts for less than $25. Hope it's a great weekend, friends!
gifts for less than $100
cheetah loafers – These are probably my most-worn shoes in the fall and winter. They are so comfortable, require little-to-no time to break in, and add a fun pop to any outfit. Perfect for the gal who wears all black all the time.
topknot earrings – I have seen these tassel earrings allll over instagram – how pretty are they!? They come in a few different colors, too. They would look soooo good with a black turtleneck. Perfect for the gal who is always wearing the prettiest statement earrings.
align pant – If you told me that there would come a time in my life that I would wear leggings that cost more than like $40, I wouldn't believe you. But these are worth every. single. penny. I've had mine for almost a year – and worn them countless times – but they still look brand new. Perfect for the gal that actually enjoys working out or the gal that believes in leggings > everything.
pajama set – These pajamas may be the boujeeist thing I own. Really, I only say that because they're monogrammed, and if you just asked yourself "who needs monogrammed pajamas?" I get it. It seems frivolous and a little silly, but I love them They are also great quality and all cotton, which is my jam when it comes to pjs. Perfect for literally anyone – mom, MIL, sister, friend, grandma – anyone.
bumble bee necklace – I think my college is the only college in the history of the world with a bee as a mascot. So, I really like bees (my bees and this necklace, which is particularly cute). Perfect for any SAU student (lol) or the girl who likes cheeky jewelry.
perfect hair day kit – I have never used this shampoo or conditioner, but if the dry shampoo is any indication, it's all amazing. It's one of those dry shampoos that smells good AND works well. Perfect for the girl who's hair is 90% dry shampoo by Friday.
cashmere sweater – J.Crew cashmere is my favorite, because while it's very much a luxury item, it doesn't have a luxury price tag. I have a the crew neck in a few different colors, but the cardigan is so cute, too. Perfect for – again – anyone. J.Crew is so good like that.
gold beaded bracelet – Other than my Apple watch, I don't wear anything on my wrist. I hate the sound of a bracelet clunking around when I type, but this one is so delicate that I don't think it would be an issue. It's pretty in a stack or my itself! Perfect for the gal that loves accessories (it comes in silver, too).
personalized stationary – So I know that I shared a letter set yesterday, but I love this personalized option. I was on the market for cards that I could use in and out of the office, but every personalized option I found were more than $400. So instead, I hit up zazzle and made my own design, which I'm sharing with you. The quality of paper is amazing, and the cards look wayyyy more expensive than they really are. Perfect for anyone, but would be such a thoughtful gift for a newlywed with a new last name!
If you're looking for stocking stuffers or a gift that doesn't cost too much money, check out my guide of gifts for less than $25. And if you want to spend a little more, check out this guide of gifts for less than $50.